How to Ensure Your Team Can Securely Work From Home
February 8, 2021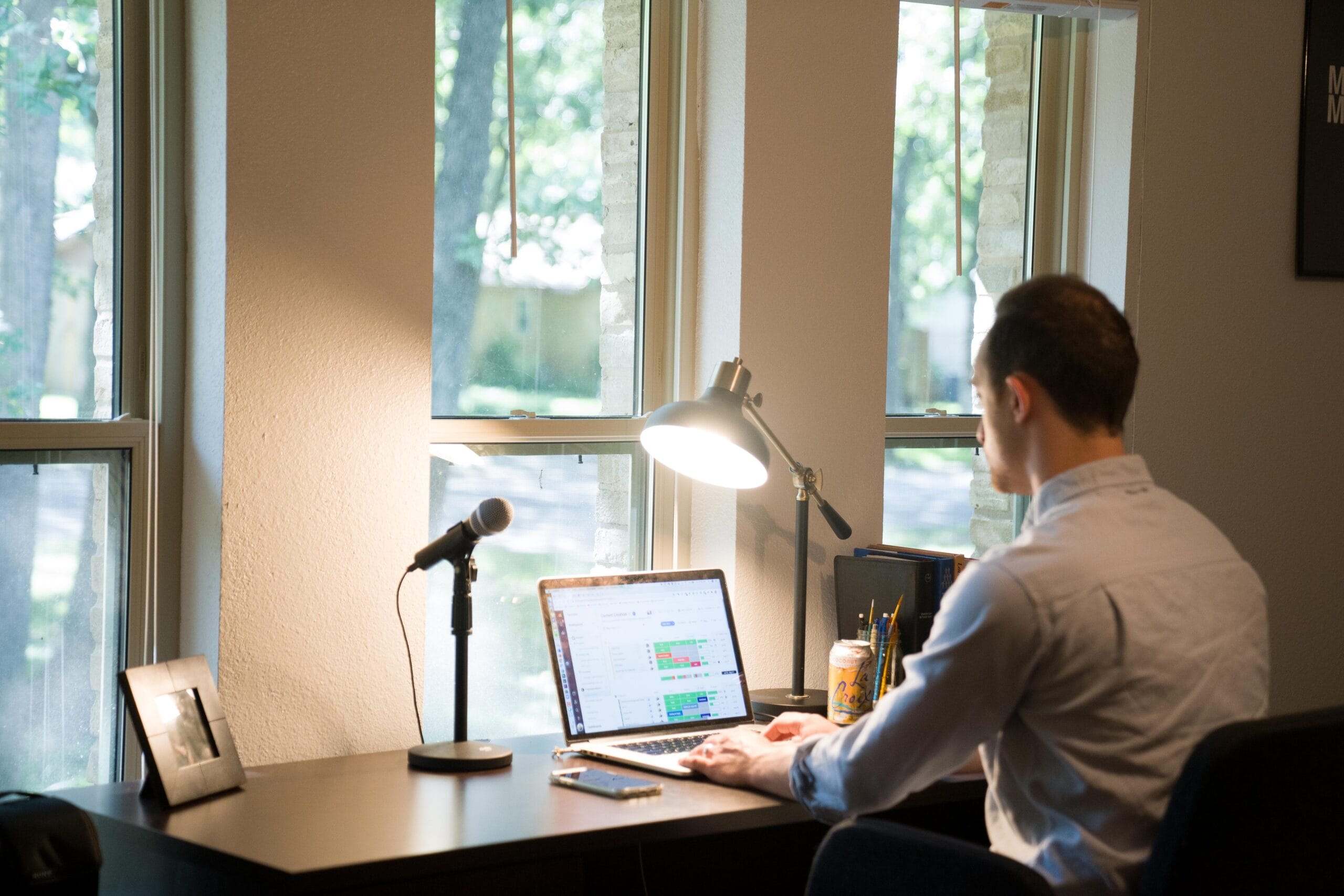 As the novel coronavirus (COVID-19) continues to spread, many companies continue to assess how they can best prioritize their employee safety and maintain regular business operations. Many companies and governments recommend employees work from home, where possible, to avoid exposure to illnesses and the subsequent loss of productivity. This article will cover some of the ways your company and employees can work from home safely, securely, and productively.
How Businesses Can Securely Work From Home
With the increase in remote work, companies have to respond in various ways to avoid cybersecurity risks or interruptions to business. "When supporting a remote workforce, understand that security controls shift. Therefore, firewalls, DNS, and IDS/IPS could be ineffective when employees head home. Most environments that support VPNs should be able to protect the remote user, be sure to account for the bandwidth of users and remote desktop sessions," said Dan Garcia, Senior Information Security Engineer II at Datto.
VPN Guidance from CISA
The Cybersecurity and Infrastructure Security Agency (CISA) released an alert to encourage organizations to adopt a heightened state of cybersecurity. According to the CISA, remote work options require a VPN solution to connect employees to an organization's network. The CISA encourages organizations to review the following recommendations when considering alternate workplace options: 
Update VPNs, network infrastructure devices, and devices used to remote into work environments with the latest software patches and security configurations. See CISA Tips Understanding Patches and Securing Network Infrastructure Devices. 

Alert employees to an expected increase in phishing attempts.

See CISA Tip Avoiding Social Engineering and Phishing Attacks

. 

Ensure IT security personnel are prepared to ramp up the following remote access cybersecurity tasks: log review, attack detection, and incident response and recovery. Per the National Institute of Standards and Technology (NIST) Special Publication 800-46 v.2,

Guide to Enterprise Telework, Remote Access, and Bring Your Own Device (BYOD) Security

, these tasks should be documented in the configuration management policy.

Implement multi-factor authentication (MFA) on all VPN connections to increase security. If MFA is not implemented, require teleworkers to use strong passwords. (See CISA Tips

Choosing and Protecting Passwords

and

Supplementing Passwords

for more information.) 

Ensure IT security personnel test VPN limitations to prepare for mass usage and, if possible, implement modifications to prioritize users that will require higher bandwidths.
In addition, managed service providers (MSPs) are recommending the following best practices and advice for how businesses can remain secure through remote work scenarios.
Use a Secure WiFi Network: If possible, all remote workers should work on a secure, private home network instead of relying on public WiFi. Suppose employees send data through an unsecured WiFi connection. In that case, they lose the power of privacy, making it possible for cybercriminals to intercept data. Employees may be putting personal information at risk if they access email accounts or send sensitive data over a public WiFi network. It's essential to ensure your network is secure by using a VPN and a strong password that isn't easily cracked. 

Secure Home Workstations: Ensure everyone has fully patched and updated anti-virus and anti-malware software. It's essential to follow the same best practices you would in the office and report any suspicious activity or concerns to internal IT or your MSP.

Coordinate With Your Internal IT or MSP: When working remotely, it's crucial to continue your typical cybersecurity best practices and reach out with any questions or concerns.
Protect Remote Workers from Data Loss
As small and medium-sized (SMBs) businesses worldwide continue to adapt to remote work, there has been a surge in the use of cloud collaboration apps. According to research from Techaisle, 74% of SMBs are using collaboration focused SaaS solutions. 
In adjusting to a completely remote, digital workforce, businesses need tools to quickly and effectively enhance how they handle new compliance, security and data loss risks. Many companies have turned to cloud-based solutions like Microsoft 365 and Google Workspace. At one point, Microsoft Teams gained more than 12 million daily users in a single week – up 37.5% – and then suffered an outage due to the rapid rise in demand. 
While Microsoft 365 and Google Workspace may make collaboration more efficient, data protection and management remain challenging. To address that threat, SMBs need a reliable solution for this growing reliance on the cloud and Datto's SaaS Protection can help.
Microsoft 365 and Google Workspace Data are not Automatically Protected 
SaaS data is not immune to permanent data loss. Both Microsoft and Google make no guarantees when it comes to restoring deleted data, whether it's human error or a malicious ransomware attack. Also, the move to remote work has triggered a wave of new cyberattacks. Previously, only 12% of all malicious traffic was directed at remote workers. Still, according to ITProPortal, this has jumped to 60% during the pandemic. 
Reduce Risk and Avoid Downtime with Datto SaaS Protection 
An independent data backup separate from the SaaS app itself is necessary to avoid the most common data loss pitfalls. Setup, backup, and recovery can all be made remotely by your MSP, ensuring data is protected and managed efficiently. Want to learn more about our reliable SaaS backup and easy recovery? Contact our product experts today!
Services Protected by Datto SaaS Protection
Microsoft 365

Exchange

OneDrive

SharePoint

Teams

Google Workspace 

Gmail

Calendar

Contacts

Shared Drives
Staying Connected & Productive When Working Remotely
Whether your team consists of members across different geographic locations or you have full remote employees, there are ways to work within the confines of temporary team member isolation. Here are some tips and suggestions for how your company can stay productive and communicative while working from home:
Communication tools need to be your go-to solution
Video conferencing systems, like Zoom or Microsoft Teams, will be your best friend. Ask yourself, "Is this conversation better-suited face-to-face?" If so, book 15 minutes with someone over your video conferencing system instead of managing these communications over email or a messaging tool. It will go the distance to keep you and your teammates in sync.

Slack and Microsoft Teams messaging tools are a great way to continue moving through processes and asking critical questions to team members. This is a quick way to get answers and to communicate small needs or changes with the group. 

Don't be afraid just to pick up the phone and call someone. Share your phone number with your colleagues when you need to have a quick conversation.
Block off "Do Not Disturb" time on your calendar each day
Communication tools, especially when remote, can become your entire day if you don't manage your time appropriately. Establishing blocks of time where you request not to be interrupted to concentrate on your work is crucial.

Utilize the "Do Not Disturb" feature to limit your notification overload. Getting constantly pinged can be overwhelming for anyone. Do your best to reduce distractions when you need to go heads down on problem-solving for an hour.
When you're in a video meeting, turn on your camera and pay attention
It's easy to get distracted by other inquiries you're receiving when you're on a video meeting, especially when you can't just close your laptop like when you're in a conference room with team members. The only way to avoid this is to turn off notifications and focus on the session's content. 

Turning on your camera allows people to read your expressions and interact with you more effectively. Additionally, it gives you the incentive to be present in the meeting instead of handling other issues during the call. 
Working from home is about balance. Make sure you take frequent breaks and monitor your working hours as you would if you were commuting. It's easy to burnout when you work from home, so talk with your manager if you feel that you are struggling to be productive. Use the tools you have at your disposal to continue being effective contributors and collaborators with your remote team members.