What is the Best Antivirus Software to Use?
Antivirus software isn't just an option; every PC must have it installed unless you're not worried about losing your files, money, or divulging your personal information. But with a handful of available options, it's easy to be overwhelmed.
So, what's in the best antivirus software? At first glance, you'll figure that they're all the same, but they aren't. The least that an antivirus program can do is protect your computer from viruses, worms, spyware, ransomware, and all sorts of malware. But protection doesn't end there. You want your choice to provide advanced cybersecurity features, too. Think of password management, virtual private network, and parental controls.
The best antivirus software comes with features that improve your PC's native security systems. The idea is to keep your system as secure as possible, i.e., there's no way for anyone to get access to your data, especially bank and credit card information and login details.
Comprehensive Malware Protection
Choose a product that's proven against advanced and new malware threats, i.e., spyware, virus, and ransomware – all these things mean nothing but harm to your system. Some antivirus programs only go as far as protecting your computer from the most common viruses, but they aren't built to cast a wide net to cover all possible threats. Comprehensive malware protection is what makes your money's worth once you invest in antivirus software.
Efficient and Smooth Operation
You'll come across antivirus software that offers maximum protection, but some of them demand a lot of processing power that they crash or slow down the operating system. What you want is efficient protection that runs smoothly, even on computers with low-end processors. It makes no sense to install a program to protect your files, only for it to render your operating system almost inoperable due to the lag.
User-Friendly
Learning how to use virus protection on your PC doesn't have to be an overwhelming experience. Unfortunately, some products are way too complicated to use. The best antivirus software is convenient to use even if you have basic computer skills. After all, the concept of installing virus protection is for the user to no longer worry about tweaking his system to keep it secure.
In an ocean of options, you've got a bunch of products that stand out – maybe because they've proven their worth through time or because they offer the best value for the money. Whichever product you choose, we're sure that each prospect in this list is a winner:
1 – Norton 360
Well-suited for both Windows and Android systems, Norton 360 continues to improve its virus and malware protection. The company boasts its industry-best internet security suite that keeps personal information and data in your system private and secure. Norton uses a proprietary scanning engine that detects the most sophisticated online threats. The Windows version of this antivirus software is a breeze to use, but it maintains advanced settings if you want to customize your protection.
The standard (most affordable) Norton 360 package includes practically everything you need, including real-time malware protection, password manager, VPN access, and 10GB cloud storage.
2 – McAfee Total Protection
McAfee's Total Protection pitches the most extensive internet protection for your system, incorporating features like encrypted storage, malware protection, VPN, and a password manager. This product insists on added online protection by integrating a browser extension.  McAfee's coveted trademark feature is "My Home Network," where you're provided with a map of all devices connected to your home's wireless network. It's online security at its best, preventing intruders from accessing your home network.
The McAfee Total Protection package is designed for family use, highlighted by its centralized approach in network security. The company throws in a 30-day money-back guarantee in case you're unsatisfied with it.
3 – Avira Prime
Remember when we talked about how the best antivirus software should be light and efficient for any system? Well, Avira Prime gives you just that, and then some. The anti-malware engine isn't as demanding to that of Norton and McAfee, but don't think that it's less effective. Avira uses a powerful antivirus program that features a wide array of internet security packages, including VPN, real-time malware protection, password manager, privacy optimization, advanced ransomware protection, and system optimization.
The system optimization tool is what makes Avira Prime stand out. The start-up optimizer keeps your PC's boot time at a minimum, while the power boost option allows you to place all resources in a single task for them not to interfere when you're gaming.
4 – Intego
We put Intego in this list because it's by far the most comprehensive macOS antivirus software. The first three options in this list are for Windows and Android-operated devices, so it's just fair to talk about virus and malware protection for systems that run the Mac OS.
Like the other three products before it, Intego combines optimization tools and internet security in one package. It works by improving Mac's embedded safety features through real-time malware protection, network security customization, advanced Mac backup, parental controls, and some nifty cleaning tools.
You can't go wrong with any of these antivirus products; they come with an extensive range of features that promote security and enhance data protection. The "best antivirus software" is a subjective term since we all have unique preferences. Anyway, we vouch for all the products in this list.
If you need help with antivirus software or if you need help with any other type of IT solutions contact us at Hemi Solutions.
Hemi IT Solutions Merges with Technology Group Jot Digital Inc. | Press Release
October 1, 2020. Earlier this year, IT experts and managed service provider Hemi IT Solutions was acquired by technology company Jot Digital Inc. Both are Calgary-based, and the move brings together two highly complementary companies and will strengthen one another's capacity to support their clients, specifically in the delivery of IT Managed Service and Consulting.
Jot and Hemi are now able to service and support more customers across North America and add value with an expanded list of business solutions including IT Management, Business Systems Integration, Software and App Development, and Digital Marketing. Jot's current IT clients will benefit from Hemi's decade of experience and enjoy faster and more reliable support.
"This is a good move for Hemi IT, and we're excited to merge with Jot." said Travis Hemsworth, "Jot is young, but they are an emerging technology company. True visionaries in pro-active thinking, they aim to rationalize IT footprints and stay one step ahead of ever-changing technology. We see multiple benefits and added value for our clients in combining our forces, and we look forward to a productive future."
Ian Hedgeland, President and CEO of Jot Digital explained, "We are a much stronger full-service tech company now. With Hemi IT Solutions, we can deliver faster response times and better customer service to all our valued clients. Collectively, we aim to provide a fair-priced solution focused on keeping small to medium-sized businesses operational and secure, while within an efficient footprint. My goal is for Jot to become one of Canada's leading technology companies, providing 360-degree digital solutions."
About Jot Digital
Jot Digital Inc. is a full-service tech provider with a wide array of clients throughout Canada and the United States. They know every customer is unique and needs their own tech strategy to succeed. Jot's priority is their customers' satisfaction, and they achieve that through pro-active thinking and accountable, reliable work. They provide a fresh perspective on technology and aim to infuse any organization with new ideas and insights when managing IT systems, writing software, planning a digital roadmap, or securing a business's continuity through disaster recovery solutions.
About Hemi IT
For over a decade, Hemi IT Solutions has made it their mission to provide fair-priced B2B service. Communication is the centerpiece of their fast, responsive, reliable IT support. They focus on creating and maintaining partnerships with their clients based on trust, efficiency, and follow-through. Hemi strives to provide excellent customer service while delivering scalable IT Solutions needed to drive their customers' success. They also take care of the day-to-day maintenance to ensure that the technology used by every customer they support, is operating as effectively and efficiently as possible.
For more information, please contact:
Ian Hedgeland | President and CEO | Jot Digital Inc.
Phone 403.975.4426 | ian@jot.digital
What is Endpoint Security and Why Does it Matter?
The purpose of endpoint security is to protect the network against a possible breach or exposure of data when accessed through a remote device.
The increasing reliance on the use of personal devices, i.e., smartphone, laptop computer, tablets in an office or corporate environment opens up the possibility of exposing protected information, some of which include company secrets and financial data.
With endpoint security, a company or organization protects its network through a series of activities, application and use of software, and regular monitoring.
Endpoint protection systems are installed on every network server within the company or organization, including all endpoint devices. The ever-growing dependence on mobile devices puts enterprise data and confidential files at risk of exposure when that device is stolen or lost. It's hard to fathom how significant the loss could be for a company if this happens.
How Endpoint Security Works
The point is that businesses and companies must find a way to secure sensitive data that is transferred to an otherwise "unsecured" mobile device. There must be a safeguard against illegal access in case the mobile device falls into someone else's possession.
But endpoint security isn't just about protecting sensitive data in a lost phone or laptop. Companies take full advantage of its beefed-up measures to prevent the likelihood of misusing data. There are countless instances of disgruntled employees who were let go and sought revenge by using login details or even financial records as leverage.
How Is It Different to Other Security Tools?
Endpoint security is classified as a network security tool, which puts it on the same boat as an antivirus program and a firewall. However, that's essentially the only similarity. The term "endpoint" means that it is more of a focus-driven approach.
Whenever a mobile device connects wirelessly to a network, it immediately opens up some vulnerabilities. Unlike the computers and other devices that are wired to the corporate firewall, smartphones and laptops that use Wi-Fi, Bluetooth, and other wireless connections are situated outside of the protected network.
Since they are literally on the "edge" of the network while connecting to the central system, experts refer to them as "endpoints." It means that they're the endpoints of the corporate network. The strategy used in safeguarding and protecting data that goes through these endpoints is aptly called "endpoint security.
While the function of an endpoint security software is to "secure" mobile devices, it's not the same thing as an antivirus program. Antivirus software is installed to protect one or a couple of computers; on the other hand, endpoint security casts a wider net as it works to protect the entirety of the corporate network.
The scope of endpoint security is broad enough that most people don't even bother to understand it. But if you're a business or company owner, CEO, or manager who has a genuine concern of protecting your most-guarded trade secrets and sensitive information, you will want to learn about what endpoint security covers.
A comprehensive endpoint security package includes network access control, application whitelisting, and advanced detection and response systems. Those are things that you usually don't get in an antivirus program. Consequently, the antivirus program may form part of endpoint security. It is part of a broader scope of protection which typically includes firewall and monitoring tools, all to safeguard all endpoints.
Moreover, endpoint security embraces a server-client system to enable an efficient protection strategy for multiple endpoints. The server is the focal point (master) of the program, while the clients (endpoints) get specific representatives installed in them. These representatives connect to the server through each client's device, monitoring activities from logins, authorizations, and others. Again, the objective is to keep each endpoint as secure as possible.
Meanwhile, the role of the antivirus program is to detect and get rid of a bevy of threats to a PC, including but not limited to adware, spyware, malware, and viruses. It works by periodically scanning the system to find out if there is any viable threat.
In a nutshell, endpoint security tackles a broader perspective compared to that of an antivirus program. Although they are similar in a way that they secure a network, the scale is quite different in terms of scale.
Importance of Endpoint Security
Employing an endpoint security strategy isn't just for large corporations and enterprises; even small and medium-sized businesses that rely on IT infrastructure to access, store, and pass sensitive data must start embracing this practice. It's not merely about data protection, but also fluidity.
The increasing reliance on mobile devices makes it a no-brainer for would-be data hackers and thieves to focus on them. Multiple endpoint vulnerabilities in a wireless network is a legitimate concern, which is why endpoint security is no longer just an option.
Back in the day, data and security breaches happened within and through the network. With the popularity of endpoints, centralized protection is no longer enough. So, if your business or organization relies on mobile devices to maintain a seamless operation, you have no choice but to make that crucial investment in endpoint security. Be reminded that security always takes priority over convenience and efficiency unless you're not concerned about exposing your business or corporate data to the world.
No one will argue against the value of mobile or remote devices in a business or office setting, but don't forget about the vulnerabilities that they present. Spending money on a premium endpoint security software gives you an all-in-one solution in preventing data loss.
4 Big Benefits of Outsourcing Business IT Services
While the need for improved IT services can occasionally come on like a tidal wave with a significant event like a failed server or security issue, more often, it starts with a trickle. 
Maybe it began with patches that are applied several months late and or a couple of expired software licenses. However, each of these small steps leads your business away from secure operations, which can become painful and expensive to undo.  Before you get to that point, it's essential to consider the benefits of outsourcing the IT needs of your small business.
Saves Money and Controls Business Expenses 
Technology budgets can get quite complicated and small businesses that try to handle all their IT services in-house can find themselves with much higher costs in research and development and slower implementation times. Between balancing hardware life cycle, software upgrades and unexpected IT needs, there's a lot to consider. 
By outsourcing to a managed services IT provider, you can regain some consistency in your technology budget, only paying for what you need, when you need it. By utilizing managed services, you bridge the gap between variable and fixed expenses. Lowering fixed costs but still allowing for a higher level of predictability when you're working through your annual budgeting period and freeing up capital that you could use in other areas of your business.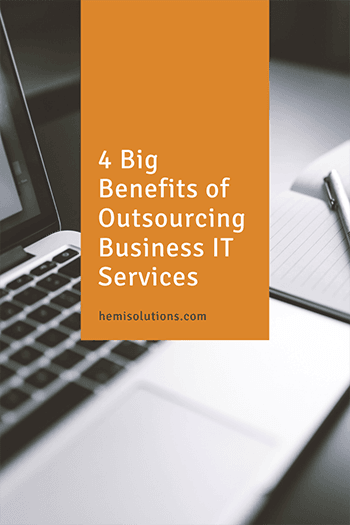 Keeps Your Business Focused on Core Operations
Small business owners and business managers wear a variety of hats: your customer service manager may also be supporting web and email hosting, while your accountant is juggling their regular duties plus office management and technology management. Having team members work outside their field of expertise is how many small businesses get started. However, for companies looking to grow to the next level and increase their competitiveness requires strategic focus and using your professionals where you need them most.
Better Access to Resources
For a growing business, it's a challenge to match the internal support structures of big business. Outsourcing to a managed IT service provider allows small to medium businesses access to big business solutions without the price tag. Many small businesses don't have the budget to implement the IT systems and services they need in-house. Outsourcing creates an equal playing field between small and big business.
Trained, Experienced and Certified Professionals
In-house IT teams can certainly manage day-by-day operations and be familiar with your products and services. Still, they often fall short when it comes to specialized skills and experience when serious problems arise. In-house IT employees live in an isolated existence, no matter how much training they have. In contrast, few questions are new for IT service companies, which are exposed more regularly to related problems in a variety of environments, giving them the experience to handle any situation.
In 2018, it took businesses an average of 191 days to discover that they had suffered a data breach. This type of situation sets companies back, especially if their competition can develop solutions faster and more efficiently. Once discovered, a breach still needs to be remediated, which can be extremely costly in both time and money when you have to bring in a third-party that is not familiar with the data or infrastructure of your business.
Experts estimate that email compromises alone constituted over $26 billion in losses over the past three years — a staggering sum when you consider that small business bore a large part of the loss.
By outsourcing your IT service and becoming a client, you'll always have control over your technology. You also gain around-the-clock protection for your data and network, robust backup and data recovery, access to experts who can help quickly upgrade hardware and software as provide advanced security processes and procedures for your business.
For more information about our full range of IT managed services, contact our team. We'd love to provide you with a free technical assessment and walk you through how working together will benefit your business.